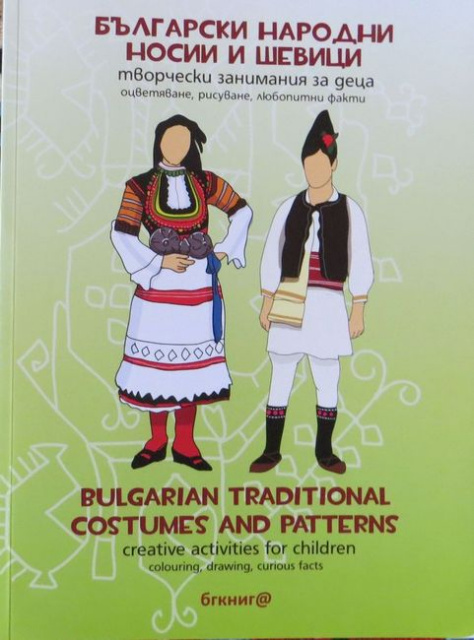 BG15 bk16 $20.
Bulgarian Traditional Costumes and Patterns
Creative Activities for Children
Soft cover 8.5" x 11" 213pp Sofia 2015
Color illustrations and line drawing pages to color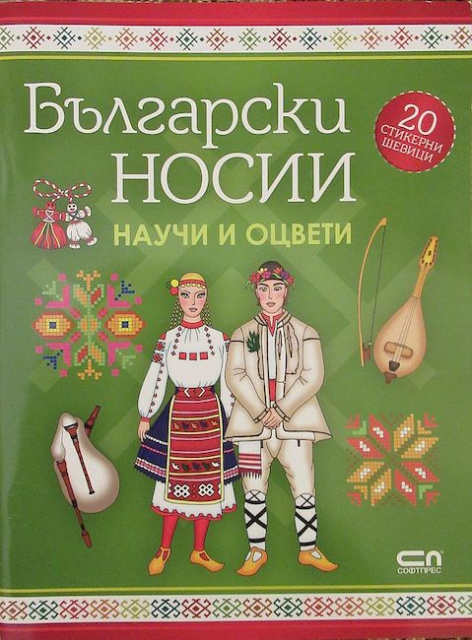 BG18 CB4 $10
Bulgarian Costumes – Learn and Color
Soft cover coloring book, Sofia 2017

About 8.5" x 11"

Bulgarian text

10 costume pairs in color

Matching blank costumes to color

Folklore embroidery pages

Blank embroidery outlines to color, cut, paste

Bulgarian National Costumes and Folk Jewellery
C64 $65. English text edition
Authors: Maria Veleva, Snezhana Dancheva-Blaoeva
Septemvri Publishing House, Sofia, Bulgaria 1983
Hardcover, 173pp

Cream cloth, gilt lettering

Illustrated dust jacket

Slight shelf wear to edges

No dj tear as in this photo

8.25" x 11.25"

Out of print, hard to find.
Classic, comprehensive guide.
Section 1 - Bulgarian Folk Costumes
227 color, & black & white photos

Costumes, origins, descriptions

Details, embroidery, textiles
Section 2 - Bulgarian Folk Jewelry
108 color photos

Earrings, necklaces, rings

Bracelets, belts and buckles
BG Map with major towns
Bibliography for each section
Glossary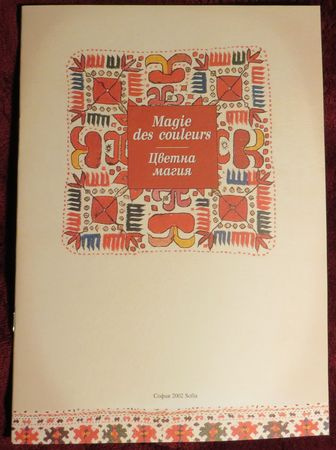 BG12 B3 $14.
Magie des Couleurs / Цветна магия
[Magic of Colors] Sofia 2002
8" x 11" softcover 16 pp

French & Bulgarian captions

1 page explanation in French & Bulgarian

Color photos, embroidery, costume pieces