Feedback
We would love to hear from you!
We're not experts on costumes and such, so if you see something wrong with the names or explanations, we'd appreciate any information you can add or correct. We like to share information with you, so we ask lots of questions about the things we buy. However, not all we're told is as accurate as we'd like, or maybe we misunderstood a complicated answer given in Bulgarian!
We also welcome your general suggestions and comments on improving our web site, and any other feedback. Please use the following form, which will be e-mailed directly to us.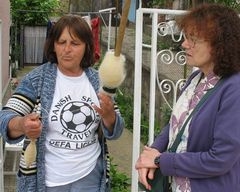 Suze tries to follow this spinning explanation in Chiprovtsi village, Bulgaria,
trying to remember her traditional spinning and weaving song word vocabulary.
Thanks,
Suze & Richie